SHCC is committed to providing timely voucher payments to properties and to supporting Owner/Agents in the submission process. In order to receive your monthly subsidy payment, you are required to submit a monthly subsidy billing to SHCC via a voucher. HUD Guidelines require that each property submit a electronic version of the voucher (MAT30) and supporting 50059 data to the PBCA by the 10th of the month prior to payment in order to receive funding on the 1st business day of the month. Vouchers submitted after that deadline risk late payment. SHCC is not able to process vouchers until the electronic voucher and supporting tenant data are received and reviewed for accuracy and eligibility. A monthly voucher submission is required even when you are not requesting any assistance for the billing month.
For more detailed information on the voucher process, including submission deadlines, links to forms, and FAQs, please select a link from the "In This Section" toolbar to the right.
SHCC Repayment Agreement Guide and Calculation Sheet
SHCC has created Repayment Guide and supporting Calculation Sheet to help Owner/Agents with creating and documenting new Repayment Agreements.  This Guide is meant to walk Owners/Agents through each step of the process.  The SHCC Repayment Calculation Sheet should be completed and submitted with the voucher to help support the amount(s) requested. These will assist SHCC in being able to approve the repayment agreement setup amounts.
Repayment Calculations Sheet – Blank
Repayment Calculations Sheet – Example
TRACS Version 2.0.3.A
HUD is planning to implement TRACS version 2.0.3.A in early 2021 in order to conform to new requirements due to the HUD 4350.3 REV-1, CHG-4, the new Streamlining Rule, and other regulatory clarifications that have been issued since the release of TRACS Version 2.0.2.D. The transition period is currently unknown, however it is expected no earlier than March 2020. Software vendors are working now to update their systems to conform to the new requirements.
Some of the changes must be made on-site now to satisfy HUD requirements, while others can't be implemented until TRACS 2.0.3.A goes live. Below are some of the items that you need to know to prepare for TRACS Version 2.0.3.A.
SSN Requirements – Children Under 6 at MI or IC
The Streamlining Rule that went into effect on April 7, 2016 states that children who are under 6 at the Move In or Initial Certification who have eligible immigration status and who have joined the household within the last 6 months do not require a HUD Waiver. Instead, the O/A should allow the household to move in. In TRACS 2.0.3.A, the O/A should submit the MI or IC with all 9's for the SSN and use the SSN Exception Code of M (see below for the work-around in 2.0.2.D). The household has 90 days to obtain the SSN (O/As have the ability to extend this to 180 days in some circumstances). Once the SSN is received, the O/A should submit an IR (or AR if appropriate) with the correct SSN and remove the SSN Exception Code. If the SSN is not reported within the 90 or 180-day timeframe, the O/A must terminate the tenancy of the household. Note that the O/A may continue to receive subsidy during the time they are pursuing eviction.
For example, on the IC below, Member 4 is a baby born in the last 6 months. His SSN is listed with all 9's, and the Special Status Code is Listed as M.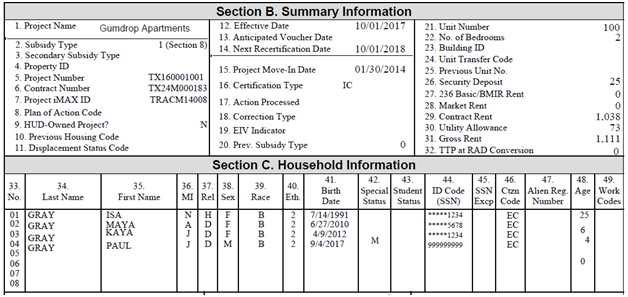 Click image for larger version.
2.0.2.D Work-Around: Since the rule went into effect before TRACS 2.0.3.A, there is a work-around to get these households in TRACS at MI or IC. If there is an eligible child under 6 without a SSN that was added to the household within 6 months of the MI or IC date, the work-around can be used. To get the certification into TRACS, use 999-99-0000 as the child's SSN, and no SSN Exception Code. When the resident provides the valid SSN, create an IR (or AR if appropriate) using the valid SSN.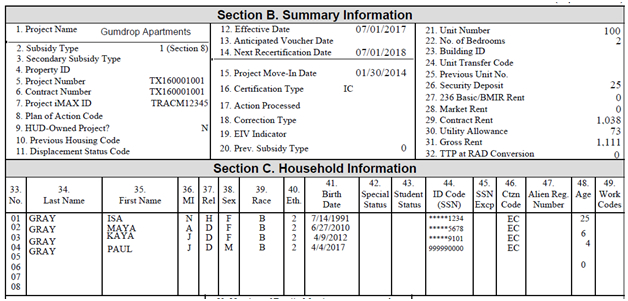 Click image to see larger version.
Previous Housing Code 2 Retired
Previous Housing Code 2 – Without or soon to be without housing, is not valid on any certifications effective October 1, 2015 or later. Any certification that includes this code will receive a Fatal Error. This code has been replaced by codes 5 and 6.
Previous Housing Code 5 – Lacking a Fixed Nighttime Residence
Previous Housing Code 6 – Fleeing/Attempting to Flee Violence
Repayment Agreements and FSS Escrow Accounts
Repayment Agreements: The data that HUD and SHCC have been receiving in 2.0.2.D is frequently of poor quality. In many cases the repayments don't add up properly or there are fields missing. This is preventing HUD reporting on repayment agreements as they are required to do, and it prevents SHCC from being able to approve repayment agreements or accept payments. To correct this issue, HUD is adding fields to the Repayment Agreement section of the voucher. TRACS will also have Fatal Errors for vouchers that are not in compliance with the new requirements.
Initial 2.0.3.A Implementation: On the first 2.0.3.A voucher, O/As must transmit the current status of all repayment agreements that have not been paid off for any current residents, whether a payment has been made or not.
Field Definitions
Record Type – Repayment, Escrow
Transaction Type – Tenant Repayment, Owner Repayment, None [no agreement signed]
Status – See Repayment and Escrow Statuses below
Beginning Agreement Amount – This is the Total Repayment Amount. If this is the first time this Agreement ID is on the voucher, this should be $0, otherwise it should equal the Ending Agreement Amount from the prior record or submission.
Agreement Change Amount – This is the amount that the agreement is changing. On the first submission, it is the total amount of the Agreement. On subsequent submissions, this should be $0 unless the Beginning Agreement Amount needs to be corrected. This field should not be used if the family enters into an additional agreement. In that instance, a new agreement with a new Agreement ID should be created.
Ending Agreement Amount – If there is a Change Amount, then this field will be the new Repay total, but if there is no Change Amount, then this is the same as the Beginning Agreement Amount field.
Beginning Balance – The amount the household owed prior to any payments that may have been made on the current voucher. This should be $0 on the first submission, then each month after that this field should equal the Ending Balance field from the previous submission.
New Calculation Formulas
•Ending Agreement Amount = Beginning Agreement Amount + Agreement Change Amount
•Ending Balance = Beginning Balance + Agreement Change Amount – Total Payment
•Amount Requested = Agreement Change Amount -Total Payment + Amount Retained
•Note: Agreement Change Amount and Total Payment fields may be negative.
•The Beginning Agreement Amount must equal the Ending Agreement Amount submitted on the previous record.
•The Beginning Balance must equal the Ending Balance from the previous record. If more than one payment is reported on a voucher, then the payments must display in order so the Beginning Balance makes sense with the previous Ending Balance.
•TRACS will issue fatal errors for any incorrect calculations, and the Voucher will be rejected.
Status Meanings – Repayment Agreements
| | |
| --- | --- |
| AV = Active | The household is a current resident and is making regular payments. |
| IA = Inactive Agreement | Current resident has missed 3 (or more) consecutive payments. If the resident then makes a payment, their status is returned to Active. |
| SU = Suspended Agreement | Current resident has reduced income and cannot make regular payments. Repayment is temporarily suspended. |
| TE = Terminated Agreement | The O/A cannot enforce the agreement terms due to outside influences, including court orders. The Ending Balance should display so HUD knows this was due to a judgment. |
| CO = Completed Agreement | All assistance overpayments have been returned to HUD. |
| RV = Reversed Agreement | The household should not have been subject to a repayment. Agreement is cancelled. |
| MA = Moved out Active | Former household is making periodic payments. If 3 or more consecutive payments are missed, use the MO code instead. |
| MO = Moved out Inactive | Former household is not making periodic payments. |
| TR = Transferred | Transferred to another property. |
Any record with the Status set to AV, SU, MA, or IA must show on the voucher monthly, even if there has been no change. All other Statuses may only be on the voucher once.
Immediate Payoff Repayments
If a household signs certifications relating to an overpayment of assistance and then agrees to pay the amount in full, you still must submit a Repayment Agreement record via TRACS. This would display with a CO Status.
Repayment Baselines
Repayment Baselines should be used to set up Repayment Agreements on the first 2.0.3.A voucher. These can also be used in certain circumstances to fix a problem with a previously submitted Repayment Agreement. A Repayment Baseline is indicated in the Record Type field, which would be set to "RB."
Rebaseline Transactions
The Baseline function is not meant to allow a property to continually submit incorrect Repayment Agreement information. This should be used in a limited basis, as the O/A should require their software vendors to correct any ongoing issues. Additional guidance is forthcoming on use of the Rebaseline function.
FSS Escrow Accounts
HUD Housing Notice 2016-08 states that Multifamily Property Owners can voluntarily establish an FSS program to provide support to families who want to reduce their dependence on public assistance. In these instances, the Owner and Resident enter into a 5-year agreement to develop goals for them to prepare for self-sufficiency. The Owner establishes an interest-bearing account for a resident, which is funded by HUD through adjustments to rental subsidy payments to the Owner. As the family member's earned income increases, the household rent stays the same, and the excess amount is instead deposited into the resident's account. If the resident meets the requirements set forth in the plan, they will receive the Escrow funds at the end of the 5 years with the intent for the resident to be more self-sufficient. Participation in the program is voluntary to both the Owner and the residents. These transactions will be entered in what was previously the Repayment Agreement Section (now named Repayments and Escrows).
Expanded Race and Ethnicity Reporting
The Race and Ethnicity reporting is being expanded due to a Presidential Directive.
Hispanic Sub-Types – if any of these fields are set to Y, Ethnicity must be set to 1.
Puerto Rican
Cuban
Mexican, Mexican American, Chicano/a
Another Hispanic, Latino/a, or Spanish Origin
Asian Sub-Types – if any of these fields are set to Y, Field 19, Race – Asian must also be set to Y.
Asian India
Japanese
Chinese
Korean
Filipino
Vietnamese
Other Asian
Native Hawaiian or Other Pacific Islander Sub-Types – if any of these fields are set to Y, Field 21, Race – Native Hawaiian or Other Pacific Islander must also be set to Y.
Native Hawaiian
Samoan
Guamanian, Chamorro
Other Pacific Islander
FAST Act Update
Due to the FAST Act of 2015, if at least 90% of a household's income comes from a fixed source (pension, Disability payments, Social Security, etc.), households only need to fully recertify once every 3 years. TRACS is still programmed to terminate subsidy 15 months after the last Annual, and won't be updated until version 203B. In order to comply with the new rules while maintaining the TRACS Compliance Percentage, the O/A must create an AR in years 2 and 3 and using the Extenuating Circumstances Code 11 (AR for a 90% fixed income household in a non-recertification year. The household is not required to sign. The Next Recert Date on the cert should be one year away.
SSN Requirements – Fosters
Per HUD regulations, SSNs are required for foster children and foster adults (Fosters). Many agencies will not disclose the SSN of a Foster to either the foster family or to the O/A. In those instances, the O/A must request a HUD waiver from their Account Executive. On the certification, the O/A should use all 9's for the SSN of the foster, and submit an SSN Exception Code of F.
Please note that due to privacy concerns, Foster SSNs will not be displayed on the printed form 50059. Additionally, the Birth Date field will display on the form as "00/00/YYYY" for any household member with the Foster Relationship Code.
New Special Status Code
If any family members are participating in a Family Self-Sufficiency program, you will need to use the F Special Status Code, which indicates that the member is an FSS Participant and has executed an Individual Training and Services Plan. Please note that there are also new reporting requirements on the voucher for such participation. See the "Repayment Agreements and Escrow Accounts" section.
Terminations/Suspensions
HUD has clarified that in instances of a Rehab or Natural Disaster, a Move Out cert is inappropriate and does not allow the household to retain their right to return to the unit and/or site. Since the term "Termination" can have a negative connotation and could imply wrongdoing of the household, HUD has added two Suspension Codes in the Termination Code field. The codes are also grouped dependent on whether the action is due to a Termination of Assistance or a Suspension of Assistance. Suspensions are defined as temporary, and unrelated to any tenant action. It also retains the tenant's right to return to the unit after it is repaired.
Suspension Codes:
•ND – Natural Disaster or Uninhabitable Unit or Presidentially Declared Disaster.
•RR – Substantial Rehab or repair – tenant expected to return.
Important Note: Any time there is a rehab, natural disaster, or major repair that would displace residents, HUD and SHCC should be informed soon as possible. We can provide information on how to handle the displacement on the voucher.